XDS create a colorful, genre blending style of Psychedelic Dance-Punk. They integrate elements of Krout rock, no-wave and 12 tone composition wrapped in vibey blown-out synth samplers.
Over the past 20 years they've produced 11 releases and toured internationally as well as thought the US.
They were formally based out of Oakland CA, then Portland OR under the name Experimental Dental School. The won the Guardian's best of the bay "Best Weirdo Band award".
Shoko Horikawa plays drums and Jesse Hall plays Guitar-o-bass (combination bass and guitar), synths samplers, loops, and voice.
In their free time they enjoy running, crochet and heavy petting of assorted animals. Did you read this bio all the way to end? Well then you rule – thanks! Jesse and Shoko

–Amoeba Music Compilation Vol. 5 (Hip Hop Slam – US)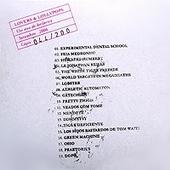 –Lovers & Lollipops Compilation (Lovers & Lollypops – Portugal)